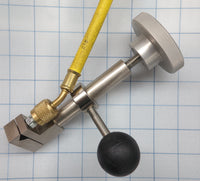 Instant Pierce is a straight-line puncturing tool for the fast recovery of Refrigerant
Out performs vise grip design by using a straight-line puncturing method.
Quickest and easiest tool to connect and disconnect on lines from 3/16" to 1" OD.
Tool minimizes smashed lines, broken tips and leaky gaskets.
Nickel plated for durability.
Reaches hard-to-get places.
Adjustable knob handle for right or left-handed workers.
Made of high quality materials for long life and durability.
Can recover liquid or vapor. Recovers any CFC produced.
Efficient refrigerant evacuation before disposal of unit!
30 DAY MONEY BACK GUARANTEE!
LIFETIME WARRANTY (EXCLUDING TIPS AND GASKETS)
"Instant Pierce has outperformed any other tool we have bought or custom made ourselves. Thanks to this tool, we have recovered refrigerant much more cost effectively than before, and this tool has also helped us come into compliance with EPA refrigerant recovery laws."

Mike Buck, City of Minneapolis Recycling Coordinator